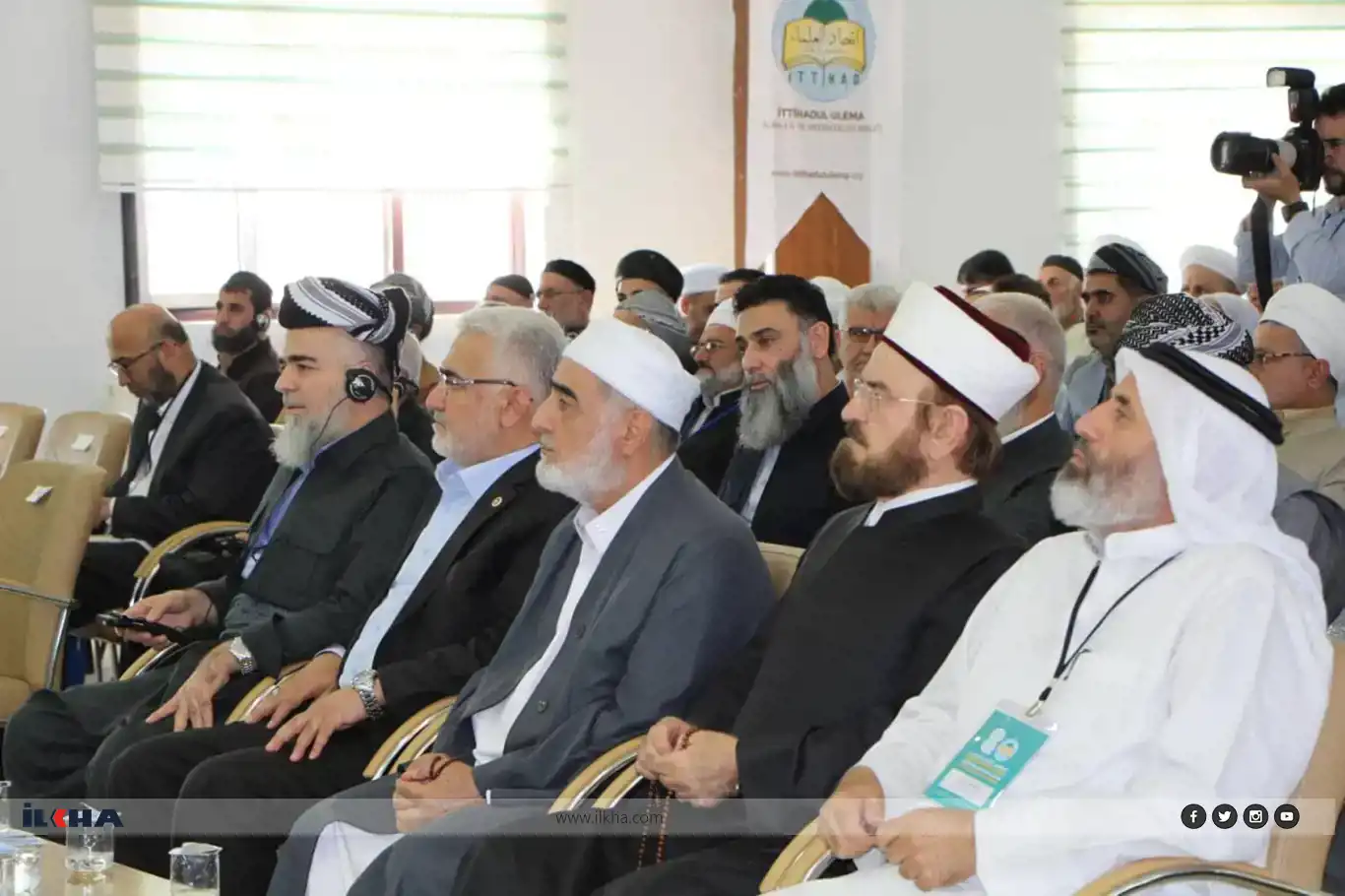 Encamnameya Hevdîtina Aliman a 8emîn hat daxuyandin
Di Encamnameya Hevdîtina Aliman a 8emîn ku ÎTTÎHADUL ULEMA tertîpkirîye de weha hat gotin, "Îro ti strateji a metod ji girtina pêşiya herikandina xwina Mislimanan ne muhimtir e.
"Hevdîtina Aliman a 8emîn" ku ji teref ÎTTÎHADUL ULEMA ve hat tertîpkirin bi daxuyandina encamnameyê dawî bû.
Hevdîtina ku gelek alimên Iraq, Îran, Sûrîye, Filistîn, Urdin, Misir, Qeter, Kuweyt, Cezayîr, Libnan û Herêma Kurdistanê beşdarî bûn, di nav du rojan de bi 4 rûniştin û milahazayan hat lidarxistin.
Di dawîya hevdîtinê de encamnameya ku ji 15 meddeyan pêk tê ji teref Îbrahîm Çîçek ve Tirkîye wî, ji teref Huseyîn Guler ve Erebîya wî û ji teref Mehdî Yalçin ve jî Kurmancîya wî hat xwendin.
Temamê metna Encamnameya Hevdîtina Aliman a 8emîn ewakîye:
"Hemd ji Rebbé aleman re be. Selat û selam li ser Hz. Muhammed Mustafa, ehlé beyta wi, eshabê wî û li ser temamê wan muminên ku li ser rêya wan de diçin be. Bi îzn û alîkarîya Rebbê me, "Hevdîtina Aliman a 8emîn" a ku di dirokên 15-16 Rebiulewwel 1445, 30yê Îlone -1ê Cotmehê de li Dîyarbekirè bi beşdarbûna gelek alimen ji gelek bajar û welatan hat tertipkirin bi dawî bû.
Em wan madde û xalên encamê yên ku pişti teqdim û muzakereyên di hevdîtina me de derketin holê ji alimen Îslamê û ummetê re pêşkêş dikin.
1. Xweda pişti şahidiya xwe û ya melekan şahidi ya aliman zikir kiriye, "Xweda, melek u sahibên îlme bi edalet şahidiyê dikin ku ji Wî pêve ti îlah tune ye. Ji wi pêve ilah tune ye. Ew, xwediyê hêza mutleq e û sahibe hikm û hikmetê ye." (Alî Îmran-18)
Pêxemberê me Hz. Muhammed (Silaven Xwedê li ser wî bin) aliman ji xwe re kiriye waris: Alim warise pêxemberan in Pêxemberan wek miras dînar an ji dîrhem nehêştine, encax 'ilmé miras hiştine. Kesê ku rahije wê ew ê bibe xwediyê para mezin (Tîrmîzî: 26821)
Di vê çarçové de mesûlîyeta sereke û bingehin a aliman ew e ku ew her tim di pey heq a heqîqeté de biçin, dînê Xwedê teblix bikin, Sunneta Hz. Pêxember bidin hinkirin û ji bo îqameya heqqê ji civakê re rêbertîyê bikin.
2. Dijminên Îslame li hember Îslamê bûne yek û tîfaq kirine û bi vî awayi dijminantiyê dikin. Ev dijminti berê li dewletên Misilmanan û civakan dihat kirin: lê îro ev yek hatîye guhartin dijminti li hember jin û mêr, xort û ciwanan tê kirin û li zayenda wan kesen ku tên hedef girtin nayê mêzekirin. Ji yekîtî a tifaqê pêve ti çareyeke din a Misilmanan li diji vê dijmintîyè tune ye.
Îro ti strateji a metod ji girtina pêşiya herikandina xwina Mislimanan ne muhimtir e. Girtina pêşîya herikandina xwina Mislimanan jî encax bi yekîtîya Mislimanan mumkin e. Îro ti mazeret û bahane sorkirina ixtilafen di nav Mislimanan de meşrû nake.
3. Xweda forman dike "Ev ummeta we bes ummetek e Ez jî Rebbé we me, naxwe ji min re îbadet bikin (Enbîya- 92) Dîsa Xweda ferman dike. "Hûn ummeta bixêrtirin in ku ji bo însanîyetê hatine derxistin hole. Hûn gencîyê emir dikin û ji neqencîyê dûr dikin." (Alî Îmran - 110)
Bes ne ummet bi heman away, temamê însanîyetê ji teref kufra modern a ku dixwaze wehyê ji holê rabike û li hember rêbertîya wehyê isyan dike ve roj bi roj ber bi felaketê ve tê kaşkirin. Li diji vê yekê ji Mislimanan pêve ti kes nemaye ku dengê xwe bike. Em bang li temamê Mislimanan dikin da ku li dijî îfsada kufrê, pêşî fikrin xwe û dûre jî temamê îmkanên xwe bikin yek. Divê bi vê yekitî û yekbûnê pêşî wan hukmên ku karibin ixtîyacên esrê tesîs bikin bi wêrektî pêşve bibin.
4. Li dijî béexlaqî, bêhiqûqîya ku însanîyet hatiye kişandin navê bes çareyek tenê heye ew jî rêbertî û îhyaya Îslamî ye. Meydan xwedinên ku ji hundir û derve ve li hember rêbertî û îhyaya Îslamî tên xwarin û ew tehdidên ku tên kirin divê êdî bên derbaskirin û li pey xwe bên hiştin. Ji bo vê yekê jî lazim e di nav Mislimanan de hevdîtinen îstîşareyê yên mezin ên mîna Lijneya Giştî ya Neteweyen Yekbûyî bên tertipkirin.
5. Girtina medreseyan yek ji felaketên herî mezin e ku hatîye serê ummeta Îslamê. Alimên Îslamê hewl didin tedrîsata Îslamî û medreseyên ku şaxên wê ne îhya bikin, lewra ji bo înşa û ihyakirina zihnê Mislimanan a bi Sunnetî Senîyye bes rê ev e. Divê ev xeyret û hewldanen wan bên destekkirin û divê herkes haya xwe ji wan sepan, qerar û karên ku dé karên wan bi zehmet bikin ji wan re bibin asteng, bikin.
6. Alimên Îslamê bes ew ê civakê irşad nekin. Ew ê her wisa bi şiklekî aşkere û bi cesaret ji wan kesên ku li meqamên mîna sîyasî, îqtîsadî û burokrasîye ne re teblîx bikin û ji wan re di warê li ber neheqî û zilmê re rabûn de bibin xweş mîsal.
7. Mescîda Eqsaya ku qîbleya ewil a Mislimanan e û li wê derê meseleya Îsra û Mîracè ya Hz. Pêxember qewimîye û Qudsa Şerîf a ku derdora wê ya pak û tahir e îro di bin îşxal û îstîlaya sîyonîstan de ye. Ev yek netîceya wê rewşa ku ummet ketîye navê de ye. Ger hal û wazîyeta ummetê baş bibe ew ê Mescîda Eqsa û Qudsa ku di bin îşxala sîyonîstan de ye dê rizgar bibe. Ger ummet yek be û bi hêz be ew ê Quds di nav selametiyê de be. Diroka Islamê vê yekê bi me dide zanin.
8. Kes û kesayetën mîna Îmam Cuweynî, Ebû Îshaq eş Şîrazî û Îmam Xazali ji ber ku tedtrîsata Îslamî îhya kirin û ji ber ku Ummeta Islamê îrşad kirin ew derdor û zemîn çêbû ku jê Fatihê Qudsê Selahaddîne Eyyûbî derkeve meydanê. Selahaddin Eyyûbî piştî ku Qudsê fetih kir ji alîyekî ve bi şûre xwe li dijî seferên sêyem ên Xaçperestan mucadele kirîye û ji alîyé din ve jî qelema ÎslamÊ bi hêz û Qewet kirîye û di vê çarçoveyê de sazîyên îlmên Îslamî vekirîye û ji tedrîseya îlamî û îrşada Ummetê re hurmet nişan daye.
Îro jî divê tedrîsata Îslamî û îşada Ummetê di warê xelaskirina Qudsê ya ji îstîla û îşxala sîyonîstan de bibe metod û stratejî. Ew ê tedrîsad û îrşada me Xazalîyan derîne holê û ew ê derdora ku lê Xazalî derkevin jî bibe wesîleya fetha Qudse.
9. Malbat; ji bo însanan war û wargeha hezkirin, muhebbet, hizûr, strîn û cihê domandina neslê ye. Ew rêxistin û navendên Kûrewî yên ku bi xirs û emela îstîlayê hereket dikin û ji bo însanan qadeke taybet qet nehiştine ji bo îmhakirina vê sazîya malbatê li pey hev projeyan îcra dikin. Bêexlaqî çeka vê projeya îmhayê ye. Însanîyet tê bê qedr û qiymetkirin, ber bi bêexlaqîyê ve tê kaşkirin û bi bêexlaqîyê ji evdan re tê evdkirin. Îro bêexlaqî êdî ne zafîyeteke şexsî ye; bûye çekeke polîtîk û pê hurrîyeta însan jê tê girtin û însan pê tên kolekirin. Bêexlaqî kolebûn e. Ew projeyên bêexlaqîyê dijminê hurrîyetê ne.
Ji bo ku bi wê pêl û rêxistina kûrewî ya ku malbatê, nirxên wê û exlaqê tarûmar û talan dike mucadele karibe bê kirin; bi giştî li seranserê cîhanê û bi taybet jî bi alema Îslamê re hevdîtin bên kirin û pêwendî bên dayîn û lazim e di pêşîvantîya Mislimanan de li dijî vê bêexlaqîya ku qesda hurrîyeta însanan dike platformeke navneteweyî bê sazkirin.
10. Hêzên kûrewî yên ku di warê hirsê de sînoran nas nakin temamê îmkanan bi kar tînin da ku însanan têxin bin tahakkuma xwe û îradeya wan xesb bikin. Di vê çarçoveyê de ew îmkanên têkilîyê yên ku bi teknolojîyên dawî derketin holê tên bikaranîn da ku pîrek û xort bên îfsadkirin û li dijî nirxên însanî yên bingehîn şer bikin.
Xortanî û pîrekên Misliman di her dewrê de di warê îhyakirina Mislimanan de bûne xwedîyê wezîfe û roleke muhîm. Misliman divê di warê îhyakirina li dijî îfsadê de ji wan îmkanên têkilîyê îstîfade bikin. Divê pîrek û xortên me bi wan îmkanên têkilîyê îhya bibin.
11. Nîzama ku heqê pîrekan dide wan bes tenê Îslam e; ji ber ku ji Îslamê dûr tê mayîn heqên pîrekan di nav civaka Mislimanan de tê xesbkirin.
Lazim e; statuya pîreka Misliman bê îhyakirin, ji bo heqê maddî yên pîrekan ên mîna mîrasê ku Îslamê daye wan bê mucadelekirin. Her wisa ji bo dê û bav û civak di warê heq û wezîfeyên ferdên malbatê de hîn bibin û wan dengeyên derheqê hukmên mafên ferdên malbatê de îdrak bikin lazim e bernameyeke îrşad û tedrîsatê bê amadekirin. Ji bo ku sîstema perwerdehîyê jî di vî alîyê de bê guhartin demildest xebata lazim divê bê kirin. Di vê çarçoveyê de stratejîya parastin û muhafezekirina malbatê lazim û elzem e.
12. Heqîqetek e ku îttîfaq li ser hatiye kirin esra me "esra pêwendî û agahîyê" ye. Îslam pêwendîyê di nav Mislimanan de li ser cemaata û îrşadê û li hember kesên ku ne Misliman jî li ser dawet û teblîxê înşa dike. Em bawer dikin îrşad û teblîxa ku yek ji wezîfeyên eslî yên Mislimanan e divê li gorî esra pêwendîyê û li gorî şert û mercên esrê bê kirin.
13. Xortanîya Misliman di her dewrê de ji Îslamê re bayraqtarî kiriye. Em mecbûr in ku dîsa kalîteya di îrşada van xortên Mislimanan de zêde bikin û derînin cihê ku divê lê be. Divê kalîteya di îrşadê de bibe mînak. Em bang li temamê aliman, siyasetmedaran, lîderên leşkerî, perwerdekeran, rispîyan, dê û bavan dikin da ku di warê îrşadê de ji xortên Misliman re bibin mînak û xweş mîsal. Divê bê zanîn diristîya me ya di heqîyê de û incisama me dê ji xortanîyê re bibe murşîd.
14. Ew hêzên ku berî vê du esran heqên siyasî yên Kurdên Misliman xesb kirin îro jî li îtîbara gelê Kurdê Misliman qesd dikin û ji xwe re wê dikin hedef.
Ew dinyaya sekuler, wan heqên siyasî yên Kurdan ku Îslamê bi wan dabû qezenckirin îmha kirin. Heman dinyaya sekuler îro jî hewl dide şexsîyet, exlaq û îtîbara Kurdan îmha bike.
Gelê Kurd ê Misliman di nav Îslamê de bû xwedîyê nirxên mîna; diristî, ciwamêrî, egîdî, ehlê wefa û ehlê namûs û dîsa di nav Îslamê de hinek alim û pêşîvan ji nav xwe derxistin ku ew tesîreke mezin li ser cîhanê hiştin. Temamê ev tiştên ku Kurd xwedîyê wan in û ew îtîbara wan bi sekulerbûnê tê tehdîdkirin û ev tehîd tehdîdeke dîrokî ye.
Globalîzma Lîberal him dixwaze gelê Kurd ji pîrozbahî, muqaddesat û nirxên xwe dûr bikeve û him jî dixwaze ku gelê Kurd li hember nirxên exlaqî şer bike. Tê xwestin ku ew rêxistinên îdeolojîk ên tevlîhev li hember îtîbara Kurdan û malbata Kurdên Misliman şer bikin. Di muqabilê vê yekê de jî ji wan rêxistinên îdeolojîk ên tevlîhev re dayîna heqên siyasal tê wa'adkirin ku ev yek xapandin e û nayê qebûlkirin.
Divê ew îtîbara gelê Kurd, ew diristbûn, mêranî, wefa, mêrxasî û ehle namûsbûyîna wan a ku çavkanîya wan Îslam e bê parastin û bên îhyakirin. Ev yek jî encax bi perwerdekirina şexsîyetên pêşeng ên ku dê di warê ilm û zanistê de cardin ji însanîyetê re pêşîvantîyê bikin mimkûn e.
15. Ew nîjadperestî û qewmperestîyê ku her tim bi însan re di herbê de ye sedem û çavkanîya mexdûrîyeta gelê Kurd e. Ew nîjadperestî û qewmperestî ti car nabe rêya xelasî û rizgarîya Kurdan. Kurd ji bo standina heqên xwe ew ê bi talîmat û "aferîn!"a hêzên global hereket nekin. Ew ê li terefê nirxên însanî cî bigirin, li wan xwedîtîyê bikin û ew ê ji însanan re pêşîvantî û pêşengîyê bikin û dê bibin xwedîyên heqên xwe. Rêya xelasî û rizgarîyê ev e." (ÎLKHA)
Önceki ve Sonraki Haberler