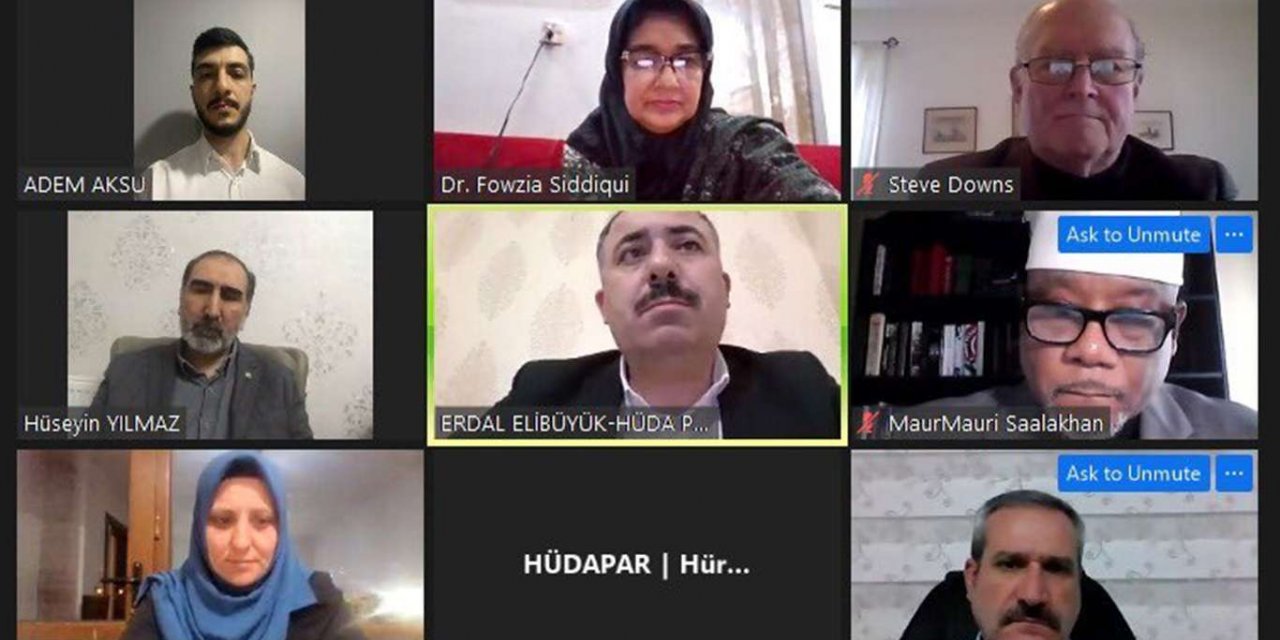 Aafia Siddiqui's sister: Nobody in our family has even heard her voice for past 5 years
HÜDA PAR Istanbul Provincial Presidency held an online international panel regarding Aafia Siddiqui, a Pakistani neuroscientist convicted by a US court on the charge of alleged shooting at army and FBI officers while in custody in Afghanistan.
Speaking at the panel, Fowzia Siddiqui, sister of Aafia, called on all Muslims to join the efforts to raise the voice for Aafia.
"On March 20, 21, it is going to be 18 years that Afia has been away from her family. She's been locked up, with no contact whatsoever. This March will become for the past 5 years that nobody in Afia's family has even heard her voice. No phone call, no communication nothing," Fowzia Siddiqui said.
Underlining that the condition of the prison where Aafia is being held has become very dire after the coronavirus pandemic, Fowzia Siddiqui said that the prisoners were locked up in the gym in isolation as if everybody was positive and they were just thrown sandwiches and bottles of water.
Drawing attention to the deadly winter storm that has recently swept Texas, Fowzia Siddiqui went on to say: "Some of the prisoners who were there and they managed to contact their family said that it is as if they are sitting in an icy grave waiting for death. That is how horrible the condition was over there. Yet we, as a nation, as a whole, and as human beings don't speak for these people. And we felt bad for those that were in their houses who had blankets to cover themselves up, who had a family to cuddle up and get warmed. We always raised our voices for them and sent us sympathies, but we never thought of these people."
Who is Aafia Siddiqui?
Aafia Siddiqui is a Pakistani neuroscientist with degrees from MIT and Brandeis University who was convicted by a US court on the charge of alleged shooting at army and FBI officers while in custody in Afghanistan.
She is serving an 86-year sentence at the Federal Medical Center, Carswell in Fort Worth, Texas.
Siddiqui was born in Pakistan to a Muslim family. In 1990, she went to study in the United States and obtained a Ph.D. in neuroscience from Brandeis University in 2001. She returned to Pakistan for a time following the 9/11 attacks and again in 2003 during the war in Afghanistan. After his arrest and interrogation under torture, Khalid Sheikh Muhammad allegedly named her a courier and financier for Al-Qaeda, and she was placed on the FBI Seeking Information – Terrorism list; she remains the only woman to have been featured on the list. Around this time, she and her three children disappeared in Pakistan.
Five years later, she was arrested by Afghan police in Ghazni province and held for questioning by the FBI.
Siddiqui was accused of attempting murder of U.S. nationals serving in Afghanistan and their Afghan counterparts at a police detachment in Ghazni.
On 4 August 2008, Siddiqui was placed on an FBI jet and flown to New York City after the Afghan government granted extradition to the United States for trial.
The trial lasted 14 days with the jury deliberating for three days before reaching a verdict. On 3 February 2010, Siddiqui was found guilty of two counts of attempted murder, armed assault, using and carrying a firearm, and three counts of assault on US officers and employees. After jurors found Siddiqui guilty, she exclaimed: "This is a verdict coming from Israel, not America. That's where the anger belongs."
Aafia Siddiqui is now held at Carswell detention facility in Fort Worth, Texas.
Kaynak:
Önceki ve Sonraki Haberler