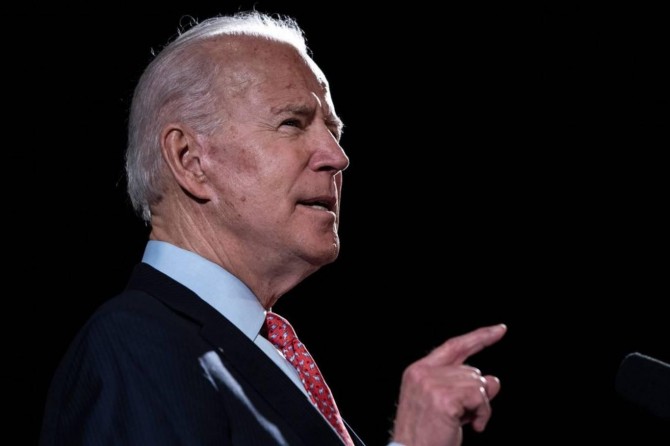 Biden calls for easing US sanctions on Iran during coronavirus pandemic
The U.S. Former Vice President Joe Biden has called calling on the Trump administration to take immediate steps to ease U.S. sanctions on Iran.
Biden's letter comes just days after 34 members of the U.S. Congress sent a letter to Secretary of State Mike Pompeo calling for easing sanctions on Iran during coronavirus pandemic.
"In the midst of this deadly pandemic that respects no borders, the United States should take steps to offer what relief we can to those nations hardest hit by this virus — including Iran — even as we prioritize the health of the American people," Biden said.
Reminding that Iran is struggling to contain one of the deadliest COVID-19 outbreaks in the world, Biden said: "While the Iranian government has failed to respond effectively to this crisis, including lying and concealing the truth from its own people, and it continues to act provocatively in the region, the Iranian people are hurting desperately."
"It is bad enough that the Trump administration abandoned the Iran nuclear deal in favor of a 'maximum pressure' strategy that has badly backfired, encouraging Iran to become even more aggressive and restart its nuclear program," he added.
"It makes no sense, in a global health crisis, to compound that failure with cruelty by inhibiting access to needed humanitarian assistance. Whatever our profound differences with the Iranian government, we should support the Iranian people," the letter stated.
Underlining that in order to stop this pandemic effectively, every country on earth will need to work together, he went on to say: "We must address COVID-19 outbreaks wherever they occur, because as long as this virus is spreading anywhere in the world, it is a danger to public health everywhere. Artificially limiting the flow of international humanitarian assistance to pursue a political point will not only allow the Iranian government to deflect responsibility for its own botched response, it will increase the threat this virus poses to the American people, now and in the future."
Washington imposed sanctions on Iran after Trump pulled the U.S. out of an agreement between the U.S., the members of the United Nations Security Council and Iran to limit the country's nuclear activities in exchange for easing sanctions on Iran.
According to Human Rights Watch, the Trump administration's broad sanctions on Iran have drastically constrained the ability of the country to finance humanitarian imports, including medicines, causing serious hardships for ordinary Iranians and threatening their right to health.
ILKHA
Önceki ve Sonraki Haberler