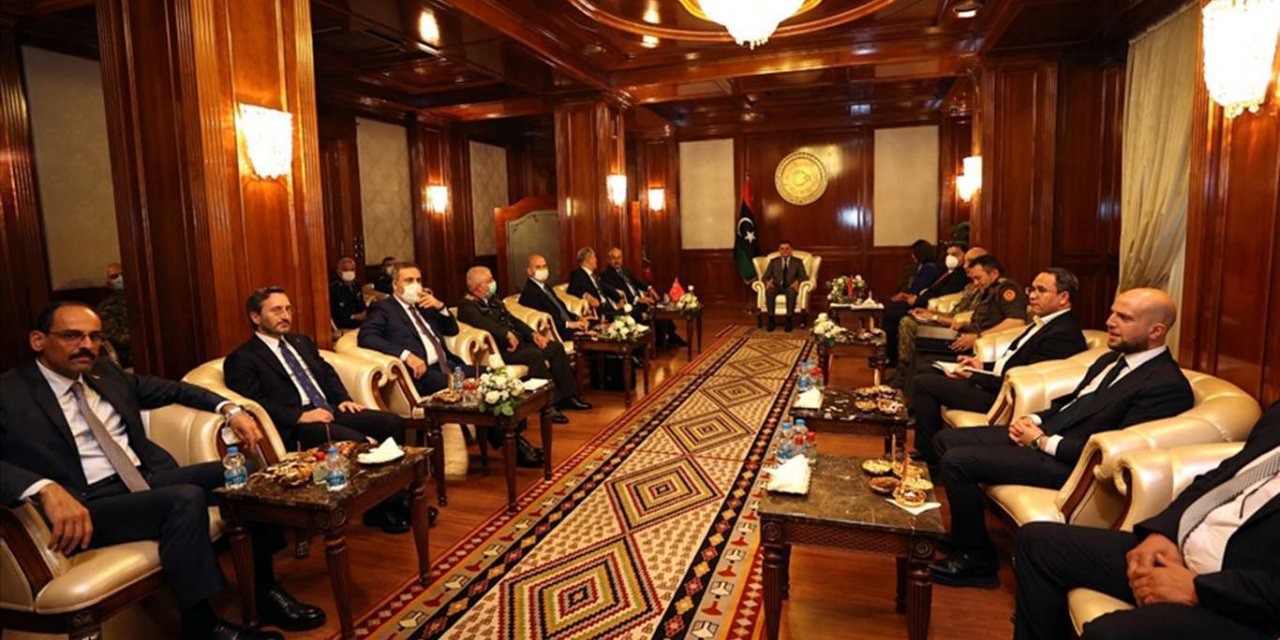 High-level Turkish delegation visits Libya before the NATO Summit
A high-level delegation from Turkey visited Libya prior to the NATO Summit to discuss bilateral relations and regional developments.
The delegation led by Foreign Minister Mevlüt Çavuşoğlu also included Defence Minister Hulusi Akar, Interior Minister Süleyman Soylu, Chief of General Staff General Yaşar Güler, Director of National Intelligence Organisation Hakan Fidan, Director of Communications Fahrettin Altun, and Presidential Spokesperson İbrahim Kalın.
The Turkish delegation that had official talks in Libya was received by Prime Minister of Libya Abdul Hamid Dbeibeh.
The Turkish delegation met with the Chairman of Libyan High Council of State Khalid al-Mishri, President of Libyan Presidential Council Mohammed al-Manfi, and Prime Minister of Libya Abdulhamid Dbeibeh.
Director of Communications Altun also had a bilateral meeting with the Libyan Minister of State for Communication and Political Affairs Ammar al-Lafi.
In the post shared on his Twitter account, Altun said, "We are about to depart from Libya where we, as a delegation led by our Foreign Minister Mevlüt Çavuşoğlu, have paid a visit to discuss the latest developments upon our President Recep Tayyip Erdoğan's instructions. We have had substantial talks for the unity, peace, and prosperity of Libya today."
Noting that he also met with Libyan Minister of State for Communication and Political Affairs Ammar al-Lafi, Altun continued as follows:
"He and I had a fruitful one-on-one meeting where we discussed furthering our cooperation in the field of media and communication. Turkey, under the leadership of our President Recep Tayyip Erdoğan, will continue to maintain its presence in the region as an effective, recognized, and powerful actor, and contribute to regional and global peace and prosperity."
Kaynak:
Önceki ve Sonraki Haberler