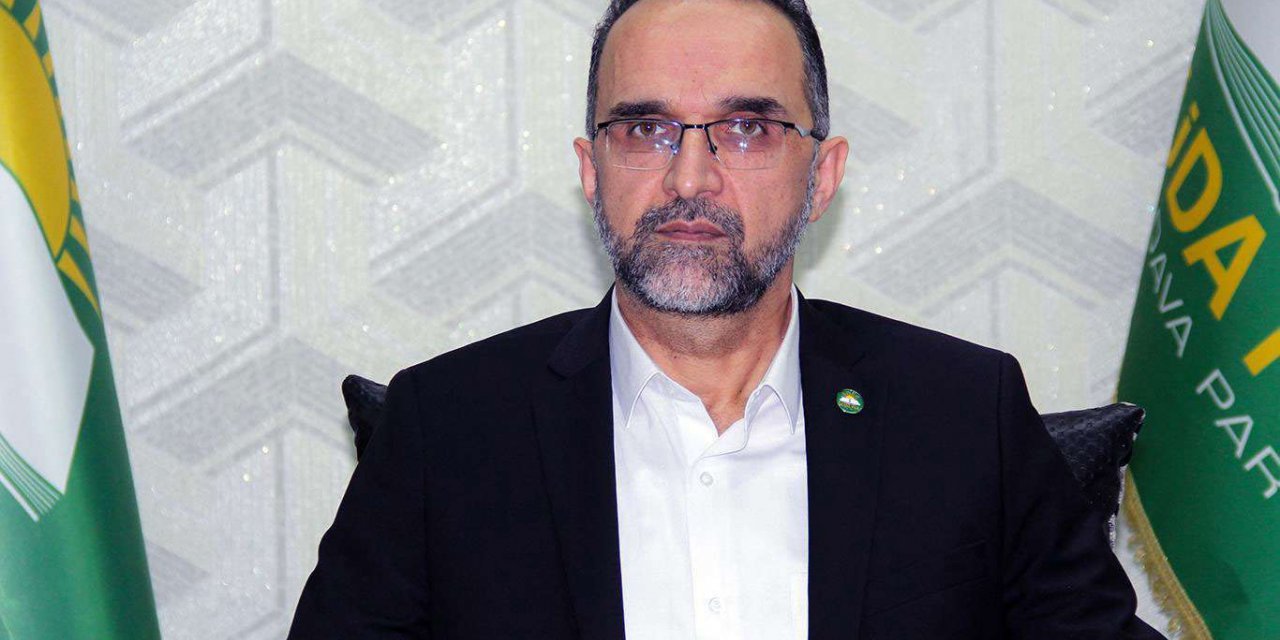 HÜDA PAR curses the assassination of Iranian nuclear scientist
HÜDA PAR Chairman İshak Sağlam said that the zionist occupation regime, which carried out assassinations in many countries, benefits from the hypocrisy of international organizations and states.
In his weekly statement on external developments, Sağlam have made important evaluations regarding the assassination of Iran's top nuclear scientist, Mohsen Fakhrizadeh, the decision of an Egyptian court to list the Muslim Brotherhood as terrorist organization and Netanyahu's visit to Saudia Arabia.
The assassination of Mohsen Fakhrizadeh
"Iranian nuclear scientist Mohsen Fakhrizadeh was martyred in a terrorist attack. The zionist occupation regime Prime Minister Netanyahu's targeting Fahrizade by saying "remember this name" in a speech in 2018 reveals that MOSSAD was behind the assassination. It was revealed that the Zionist occupation regime also attempted an unsuccessful assassination attempt on Fahrizade in 2018. We curse this terrorist attack carried out by violating the territory and sovereignty of an independent country," Sağlam said.
Underlining that the zionist occupation regime, which carried out assassinations in many countries as well as the occupations and massacres it carried out in Palestine, benefits from the hypocrisy of international organizations and states, Sağlam went on to say: "Since it did not account for any crimes it has committed, the zionist occupation regime dared to attempt similar attacks. International law must step in against the Zionist occupation regime, which was the perpetrator of Fakhrizadeh and many previous assassinations. The occupation regime, which is encouraged by the "normalization" agreements, once again demonstrated that it is a terrorist gang with its latest action. As long as the occupation regime exists, stability and tranquility will never come to this geography.""
"We condemn the attack on Fakhrizadeh and offer our condolences to the people of Iran. We wish mercy from God and patience to his family and his loved ones. We call on all international organizations to take action against this recklessness."
The decision of an Egyptian court to list the Muslim Brotherhood as terrorist organization
Touching upon the decision of an Egyptian court to list the Muslim Brotherhood as terrorist organization, Sağlam said: "Egypt's military junta, who overthrew the first democratically elected civilian administration of the country, designated the Muslim Brotherhood as a terrorist organization for the second time. Not satisfied with this, the Junta also confiscate assets of 285 members of the Muslim Brotherhood and three other organizations. Since 2013, dozens of dissidents have been executed by the junta administration. The hypocritical rulers and organizations of Western countries, which propagate human rights and freedom, ignore the human rights violations against the opponents of Egypt's military junta and the massacres targeting an unarmed intellectual and political movement. The junta administration, which made Egypt a pawn in domestic and foreign policy, revealed that it aimed to eliminate all opposition movements with the latest decisions. The military junta targeted the victory of the Egyptian people against Dictator Mubarak."
Sağlam noted that with the junta regime, Egypt was once again dragged into the instability of the Mubarak era, and added: "We invite the people of Egypt, human rights organizations and the Muslim public to speak out against the witch hunt launched against the dissidents in Egypt. Action should be taken urgently against the steps that aim to drag Egypt to the pre-2011 period in every sense, and Egypt should be ruled by legitimate administration that respects civil and human rights."
Netanyahu's visit to Saudia Arabia
Criticizing Netanyahu's visit to Saudia Arabia, Sağlam said: "Last week, the head of the zionist government, Benjamin Netanyahu, went to the Saudi Arabian city of Neom with Mossad chief Yossi Cohen to meet with Saudi Crown Prince Mohammed Bin Salman. It was alleged that US Secretary of State Mike Pompeo also attended the meeting. No denial has been received from the Kingdom of Saudi Arabia so far. This meeting, which is a clear betrayal to all Muslims and the Jerusalem cause, aims to normalize the occupation and massacres of the zionist regime. This is a shame and humiliation for the Kingdom of Saudi Arabia, which ruled the first two harem of Muslims, Mecca and Medina, and the King who used the title 'Hadim'ül Harameyn'."
Sağlam concluded his remarks as follows: "The role of the Saudi Arabia's Council of Senior Scholars that designated HAMAS and Muslim Brotherhood, who sacrificed everything for the values and dignity of the Islamic Ummah, as terrorist organizations, in this betrayal is enormous. The Saudi Arabian administration is in a clear betrayal to the Islamic Ummah at the point it has reached. A government that violates its own sacred and acts as a subsidiary to Zionism and imperialism for its political interests will never see peace. The Saudi administration has been convicted in the public's conscience for this betrayal and has completely lost its legitimacy."
Kaynak:
Önceki ve Sonraki Haberler