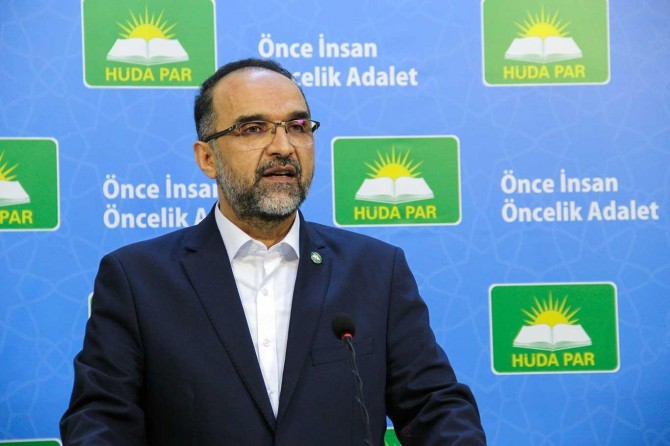 HÜDA PAR: WHO should provide medical supplies and economic support to Gaza
In his weekly statement on Foreign agenda, HÜDA PAR Chairman İshak Sağlam urged World Health Organization to provide medical supplies and economic support to Gaza, which has been under sea, land and air blockade imposed by Zionist regime and Egypt.
Pointing out that Islamic countries should unite against the occupation regime's annexation plans and prevent it, Sağlam said: "Taking advantage of the unresponsiveness of Islamic countries to the plan of betrayal, the Zionist regime has stepped up its steps to expand its occupation. Two law drafts, which envisage the annexation of north of the Dead Sea, the desert region north-west of the city of Hebron as well as the Jordan Valley by zionist occupation regime and the execution of Palestinians accused of the killing occupiers, have been submitted to the parliament. In the Jordan Valley, where 55 thousand Palestinians are stuck in 5 percent area, 12,700 Zionist occupiers occupy a 95 percent area. 94 percent of Palestinian water is stolen by occupying Zionists. At the same time, new settlements and houses are being built in line with the occupation plan in violation of international law. Islamic countries, which should have acted urgently against the steps taken within the framework of the 'Betrayal Plan', continue to quarrel with each other. Islamic countries should enter into dialogue in order to resolve the current problems between them and immediately join forces against the common enemy as soon as possible. Economic and political sanctions against the occupation regime should be put in place and the normalization steps initiated should be ended immediately. Those who pay the costs of the zionist occupation plan should give up their betrayals and use their economic resources for the welfare of the Palestinian people."
"Palestinian people are now at risk with the outbreak of the coronavirus pandemic"
Calling for the immediate lifting of the blockade imposed on Gaza to counter the threat of Coronavirus, Sağlam stated: "The Coronavirus pandemic, which has severely hit even developed countries, has also affected Gaza, which has been under embargo for 14 years, where medical supplies are very limited, and where there are power shortages and food shortages. The lives of our brothers in the region, where there are only 40 intensive care units, are at more serious risk. International organizations should take action immediately for Gaza, where the necessary measures are not taken and medical supplies are limited. The blockade imposed on the region must be lifted immediately. Medical facilities should be built with the support of the Organization of Islamic Cooperation or the World Health Organization, and medical supplies and economic support should be provided.
ILKHA
Önceki ve Sonraki Haberler