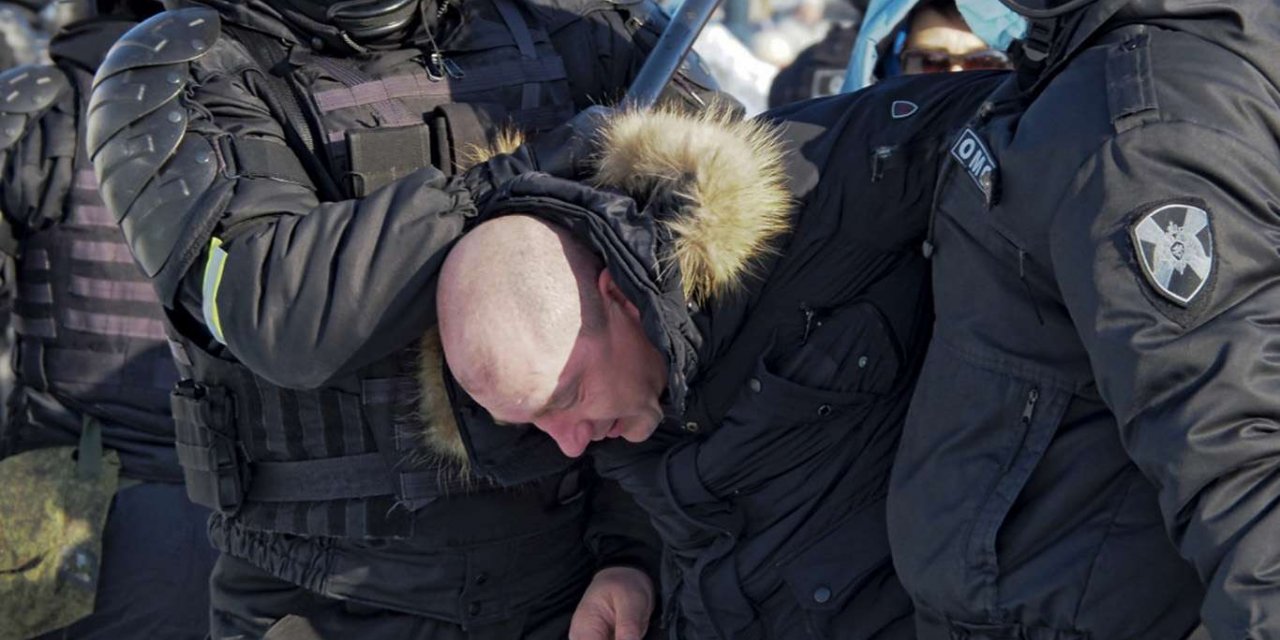 Russian police arrest more than 1,000 protesters demanding Navalny's release
Yulia Navalnaya, the wife of the detained opposition leader Alexei Navalny, has been arrested in Moscow during a protest held in support of her husband on Saturday.
The protesters, who took to the streets in 60 Russian cities in temperatures as frigid as minus-50 Celsuis, demanded the release of opposition leader Alexei Navalny.
In Moscow, thousands of demonstrators, who were planning to march to the Kremlin, filled Pushkin Square in the city center.
The protestors were roughly dragged off by helmeted riot officers to police buses and detention trucks.
Yulia Navalnaya, the wife of Alexei Navalny, was among those detained.
The demonstrations stretched across Russia's vast territory, from the island city of Yuzhno-Sakhalinsk north of Japan and the eastern Siberian city of Yakutsk.
Who is Alexei Navalny?
Alexei Anatolievich Navalny is a Russian opposition leader, politician, lawyer and anti-corruption activist. He came to international prominence by organizing demonstrations, and running for office, to advocate reforms against corruption in Russia, Russian President Vladimir Putin, and Putin's government. Navalny has been described as "the man Vladimir Putin fears most" by The Wall Street Journal.
Putin avoids directly referring to Navalny by name. Navalny is a Russian Opposition Coordination Council member, the leader of the Russia of the Future party and the founder of the Anti-Corruption Foundation (FBK).
In a 2011 radio interview he described Russia's ruling party United Russia as a "party of crooks and thieves", which became a popular epithet. Navalny has been arrested several times by Russian authorities.
He received two suspended sentences for embezzlement in two cases, one in July 2013 and another in December 2014. Both cases are widely considered to be politically motivated and to bar him from running in future elections.
The European Court of Human Rights (ECHR) ruled that the cases violated Navalny's right to a fair trial, however they were never overturned. In total, Navalny won 6 complaints against the Russian authorities in the ECHR for a total of €225,000.
In 2013, he ran in the Moscow mayoral election and came in second, with 27% of the vote, losing to incumbent mayor Sergey Sobyanin, a Putin appointee.
In December 2016, Navalny tried to run for President of Russia during the 2018 election but was barred by Russia's Central Electoral Commission and later the Supreme Court of Russia due to a criminal conviction.
In March 2017, Navalny and the FBK released the documentary He Is Not Dimon to You, accusing Dmitry Medvedev, the then prime minister and former president of Russia, of corruption, leading to mass protests across the country.
In January 2021, they released the documentary Palace for Putin, accusing Putin of corruption, leading to mass protests across the country.
On 20 August 2020, Navalny was hospitalized in serious condition after he was sickened with a nerve agent during a flight from Tomsk to Moscow. He was medically evacuated to Berlin and discharged on 22 September. Russian prosecutors have refused to open a criminal investigation into the matter.
Though the Kremlin denied involvement in his illness, the EU and the UK responded by imposing sanctions on six senior Russian officials and a state chemical center.
On 17 January 2021, he returned to Russia, where he was immediately detained on accusations of violating terms of a suspended jail sentence.
Kaynak:
Önceki ve Sonraki Haberler