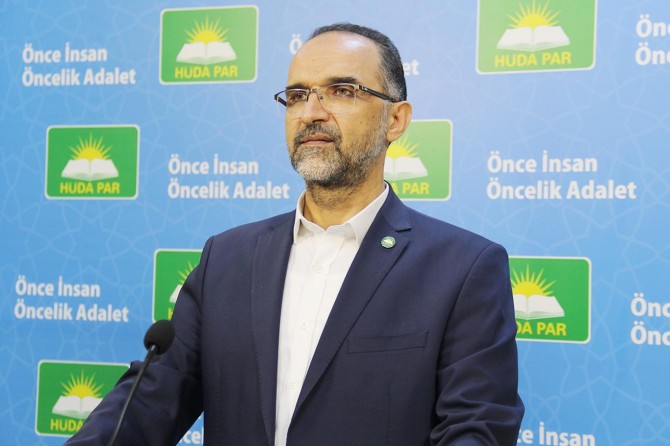 Sağlam warns Lebanese people about imperialists' policies
In his weekly statement on foreign agenda, HÜDA PAR Chairman İshak Sağlam has made important assessments on the violations of rights of Muslims in India and the explosion in Beirut, the capital of Lebanon.
Noting that Indian government aims to conduct ethnic and religious genocide against Muslims, Sağlam said: "The construction of Hindu Temple, which would be built on the site of Babri Mosque that was built in 16th century in the northern city of Ayodhya and was destroyed by fanatic Hindus 28 years ago, has begun. The construction of the temple, which was one of the fascist Indian government's election campaign promises, symbolizes the Modi administration's illegal policies. Discriminatory policies in the country had begun with the granting of citizenship to all refugees from South East Asia except Muslims. This process is continuing with fanatic Hindus and Indian government's human rights violations against Muslims. To build a Hindu temple on the site of the sanctuary belonging to Muslims is a solid evidence of the discriminatory policies pursued by Indian government."
"Deterrent sanctions should be imposed on Indian government"
Describing the silence of international organizations in the face of this ethnic and religious genocide as worrisome, Sağlam said: "In addition to discriminatory policies in the country, Indian government has annulled the autonomy of Jamnu-Kashmir, aiming ethnic and religious genocide there. For that purpose, Indian government has blocked all communication channels including mobile networks, internet, broadband and landlines, arrested more than 13,000 Kashmiris and surrounded Jamnu-Kashmir with more than 900,000 soldiers, turning the region into a prison. The silence of international organizations in the face of this persecution, which is being conducted for all the world to see, is worrisome. All international organizations and states, especially the Organization of Islamic Cooperation, which avoids addressing the issue of Jammu Kashmir and India's discriminatory policies against Muslims, should take action against rights violations and impose deterrent sanctions on the fascist Indian government."
"Economic, political and logistical support should be provided for Lebanon to heal its wounds and overcome the ongoing crisis"
Warning Lebanese people about the incidents that occurred after Beirut explosion, Sağlam went on to say: " On August 4, a fire broke out in a warehouse containing explosives in the Port of Beirut, the Lebanese capital, followed by a powerful explosion that left the city in ruins. According to the official reports, at least 160 people were killed, 6,000 others injured and ten thousands of people lost their jobs and homes in the explosion. We once again extend our condolences to Lebanese people on this occasion. It is Lebanese government's duty to detect the cause of the explosion. It should not be allowed the explosion drive Lebanon, which has suffered from instability for year, into a new ethnic, sectarian and politic crisis. In Lebanon, which is already in political and economic instability, this explosion should not be allowed to drag the country into a new ethnic, sectarian and political depression. In the contrary, all parties and groups should put aside their conflicts and problems and make efforts to get Lebanon back on its feet in unity. The policies of France, the United States, the Zionist occupation regime and other imperialist powers that would lead Lebanon into a new civil war should not be put at a premium."
Sağlam concluded his remarks as follows: "It should be kept in mind that external interventions are the cause of the ongoing economic and political crises in Lebanon. The countries of the region, international institutions such as the UN and the OIC must provide economic, political and logistical support for Lebanon to heal its wounds and overcome this crisis. It should not be forgotten that the instability and chaos in Lebanon will not only be limited to Lebanon, but will drag the whole region into new uncertainties."
ILKHA