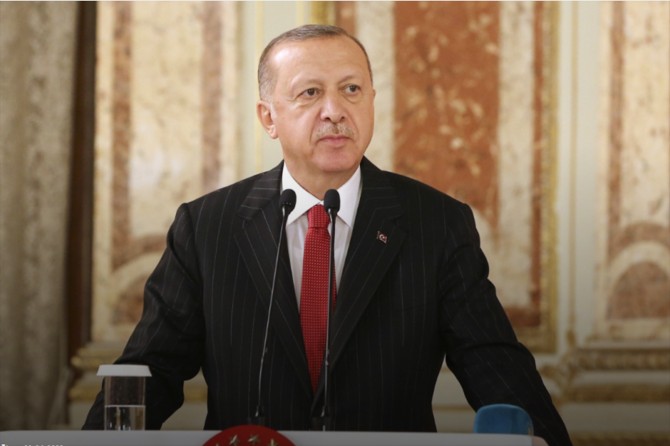 Turkey will overcome coronavirus by giving an exemplary test: Erdoğan
On his Twitter account, President Recep Tayyip Erdoğan shared a thread and stated that Turkey's health infrastructure was in fairly good condition in terms of personnel, medicine, equipment and intensive care facilities compared to many countries.
"With the power of our health infrastructure, I hope that we will overcome a tough period such as the fight against coronavirus by giving an exemplary test," Erdoğan said.
The infographics shared with the title "Turkey will be More Powerful in the field of Health Infrastructure" and with the remarks "No virus is more powerful than our unity, our solidarity and our brothers. No illness can forestall the upcoming bright future. No threat can deter us from reaching our targets" gave the following information:
"Our health infrastructure is in a fairly good condition compared to other countries in terms of personnel, medicine, material and intensive care beds.
We distributed 24 million surgical masks, over 3 million N-95 masks, over one million protective overalls, and over 181 thousand protective glasses to our hospitals and other health units. We have the potential to further increase the production of this equipment.
The world is moving towards a period where nothing will be the same anymore.
We are entering this new period quite well-prepared with our qualified personnel and production power, infrastructure and experience, thanks to the services we have provided to our country in 17 years.
I hope that together, we will all complete the establishment of a great and powerful Turkey."
The infographics also included the following information: "A total of 166 thousand doctors, 262 thousand nurses/delivery nurses, 1 million 100 thousand healthcare professionals, a total of 1,518 hospitals, 1,147 hospital intensive care services, a total of 240 thousand sickbeds, 100 thousand single patient rooms and 40 thousand intensive care beds."
ILKHA
Önceki ve Sonraki Haberler