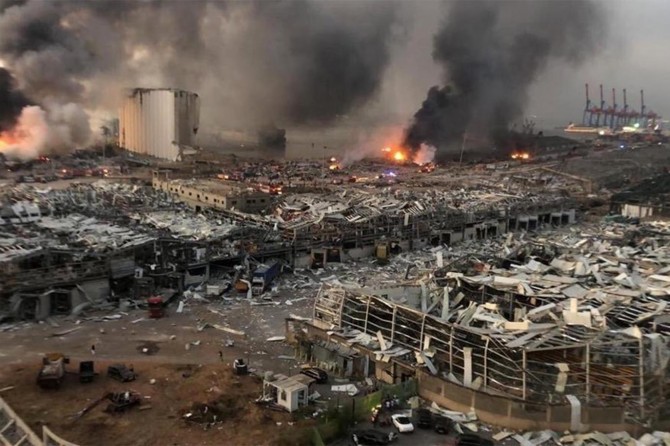 Death toll in Beirut exlosion surpasses 100, with thousands injured
Beirut governor Marwan Abboud said that more than 100 people remain missing, including several firefighters.
Two massive explosions rocked the Lebanese capital Beirut on Tuesday, killing at least 100 people and wounding countless number of people.
There are many bodies buried in the rubbles, local reports said.
Three hospitals in Beirut were completely destroyed, and two more suffered damage. Dozens of injured people brought to nearby hospitals were unable to be admitted because of the damage to the hospitals.
Saint George Hospital, located less than 1 km (0.62 mi) from the explosion, was forced to treat patients in the street, due to severe damage to the medical facility.
Several United Nations naval peacekeepers who were members of the UN Interim Force in Lebanon (UNIFIL) were injured by the blast. In addition, one of the mission's Maritime Task Force ships suffered damage.
Lebanese Interior minister said some 2,750 tons ammonium nitrate being stored in a warehouse at the port for six years likely caused the explosion that sent a shockwave across the city, shattering windows, collapsing roofs and rendering homes uninhabitable.
Calling for an emergency cabinet meeting on Wednesday, President Michel Aoun said a two-week state of emergency should be declared following a massive explosion.
Hassan Diab, the Prime Minister of Lebanon, announced that Wednesday, the day after the explosions, would be a national day of mourning.
ILKHA