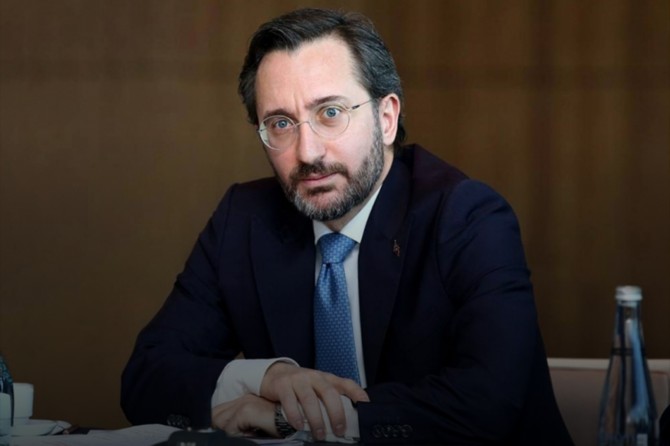 The key is to follow all the guidelines in the fight against pandemic: Altun
Head of media and communications in the Turkish presidency Fahrettin Altun stated on Twitter that they completed yet another comprehensive corona virus summit under President Recep Tayyip Erdoğan's leadership.
Expressing that the fight against the virus had mobilized the government and they had been addressing the challenge in the most serious manner since the beginning, Altun reminded that President Erdoğan outlined some stricter measures including inter-city and intra-city travel and transportation.
Altun emphasized that President Erdoğan also underlined they cannot declare a total shutdown of the country as they need to continue our manufacturing activities and produce essential materials for the people.
Noting that President Erdoğan launched a national solidarity campaign to raise funds for the fight against corona virus, Altun said: "President Erdoğan and our cabinet members have donated months of their salaries to this fund. Erdoğan called on our business leaders as well as able citizens to contribute."
Indicating that they were racing to ensure that our health care facilities and personnel have the necessary equipment and supplies to meet this unprecedented challenge, Altun added: "We have supplied millions of surgical and N-95 type masks, more than 1 million protective gear, and more than 181,000 medical glasses."
Pointing out that recently several city hospitals with thousands of bed capacity had been opened and more would be added, Altun noted the following:
"Our healthcare infrastructure was already one of the best in the region and it is becoming more robust in the face of the corona virus threat. We have been taking drastic measures to prevent the spread of the virus. The key to this fight will be for our citizens to follow strictly all the relevant guidelines. They have shown great restraint in recent days and joined our 'stay at home' campaigns. We are also very careful about confronting disinformation campaigns as well as misinformed advice in social media as well as other mediums. We are actively fighting against inflammatory and deceptive posts that intend to provoke and agitate our people. Just as our government goes after those who practice stockpiling critical materials and price gouging, we are also going after terror groups like FETO, PKK, and DHKP-C who actively wage disinformation campaigns to undermine our public health and safety measures."
Asking the citizens to rest assured that the government was doing everything it could to confront that challenge, Altun continued as follows:
"Our healthcare infrastructure is one of our biggest assets, as we rival and often exceed some of the most developed nations in terms of many healthcare related measures. We will continue to work around the clock in a very aggressive manner to meet this challenge. Our biggest asset is our people and their common sense. We have been very transparent and open with them about the nature of this threat and we will continue to do so."
ILKHA
Önceki ve Sonraki Haberler