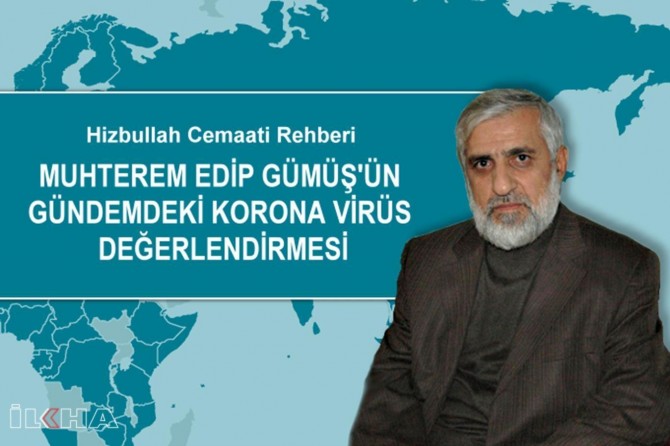 The leader of Hizbullah the Honorable Edip Gümüş releases a message about the pandemic
The leader of Turkey's Hizbulah Community the Honorable Edip Gümüş has released a message about coronavirus pandemic, which affected almost all people in the world, offering important advices.
Issuing a message about the Covid-19 pandemic, which first appeared in China and spread all over the world, Gümüş said that the crisis should be turned into an opportunity and that the actions would please Allah should be performed.
Urging people that to stay at home as much as possible and to follow the advice of experts, he advised reading, worshipping and praying, individually or as a family, during this time.
Recalling the 155 – 157 ayats of Surah Baqarah that read: "And We will surely test you with something of fear and hunger and a loss of wealth and lives and fruits, but give good tidings to the patient, Who, when disaster strikes them, say, 'Indeed we belong to Allah, and indeed to Him we will return.' Those are the ones upon whom are blessings from their Lord and mercy. And it is those who are the [rightly] guided", Gümüş said: "Coronavirus is much talked about, much written because it is on the top of international agenda. No one can predict exactly how long this will continue. So it will continue to be spoken and written. May My Lord protect Muslims against all kinds of calamities, troubles and disasters. May Allah come out you from this plague with the least harm."
Urging everyone to act responsibly, he said, " I will not write anything about the way to protect ourselves from the disease. Everyone should follow the advice of experts and scientists –within their means– and do so responsibly. There is no need to write in detail what my brothers have already been reading and doing daily, weekly and monthly. Because I believe that everybody knows what needs to be done in the face of the pandemic."
Gümüş went to say: "What I want to say is to turn this condition and environment into an opportunity despite all its difficulties, to take advantage of it, to engage in the activities that will please our Lord and believers. Under these circumstances, we, as men and women, children and adults, family and persons, should think about what can be done to please our Lord. Today, our goal should be to think about the ways to please our brothers and to try to take advantage of the environment and conditions."
"As individuals or families, we have cultural and practical things to do. No one has any excuse to do this in the best way possible. Each of the family members should have an individual and as a family reading program as well as worshipping program. Our brothers should pray individually for themselves, their brothers and the whole Ummah, and they should pray for themselves, for their brothers and the whole Ummah as a family. May the Lord accept the prayers and worships of all our brothers and sisters."
Stating that everybody should make use of the process, Gümüş said:" Many of our brothers have not be able to properly take care of their spouses, children, parents and siblings due to the intensity of their work. Perhaps, the lockdowns have created a great opportunity for all of us in this aspect. We have had the opportunity to take care of family members who we have not been able to pay attention to, who we have not been able to listen to enough and advise, and who, despite living in the same house, we have not been able to be aware of their troubles. Let all our brothers and sisters make good use of this process, especially at this point."
He urged everybody to tighten their belts and added: "There is no doubt that if this troubled process is prolonged, even powerful states, not just individuals, will suffer economic crisis. We have to anticipate this from today and be economical for those days. God forbid if it gets too long, there may be circumstances that require us to share our bread and the food on our plates with each other. Let not my Lord test us and all Muslims with a burden that we cannot bear. Everyone can face a huge test. All our brothers and sisters, all Muslims, all peasants, urbanites, tradesmen, workers and civil servants, must be ready for a difficult process.
"This is a trial. It is a great trial. It is a test for all mankind," Gümüş said and concluded as follows: "Perhaps our Lord brought all humanity to its senses in this age with a virus too small to be seen by the eye, and asked them to contemplate it. He wished to remind us once again how helpless we are. It is high time for repentance and to ask forgiveness from Allah. May Allah grant all Muslims a sincere repentance. I entrust you all to Allah the Shafi'i."
ILKHA
Önceki ve Sonraki Haberler