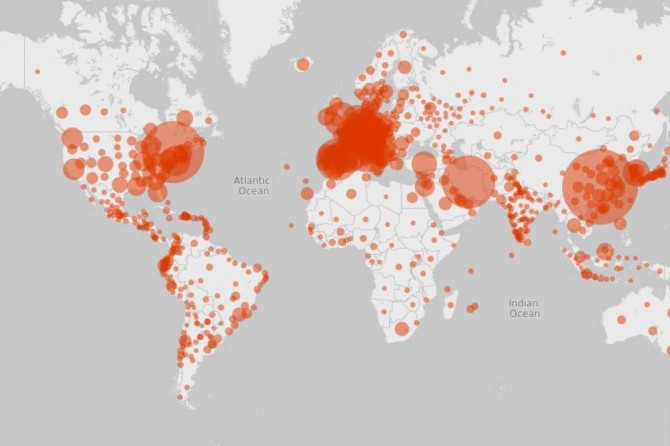 The number of confirmed coronavirus cases approaches 600,000 throughout the world
27,365 people have died from coronavirus pandemic, which broke out in Wuhan, the capital of Hubei province in China, throughout the world.
The number of people infected with coronavirus (Covid-19) has approached 600,000 worldwide.
133,363 have been discharged from hospitals after being cured.
Turkey has conducted a total of 47,823 tests so far. The total number of confirmed coronavirus cases has reached 5,698, while 92 people have lost their lives and 42 patients have recovered."
In the USA, 100,495 people have infected with coronavirus pandemic. Of those, 1711 patients have died.
Italy, the world's hardest hit country, has reported 66,414 confirmed cases, with 9,134 deaths.
The number of infected people with virus in Iran, has been 32,332, with a death toll of 2,378. 11,133 people have recovered and discharged from hospitals in the country.
Spain has so far reported 65,719 confirmed coronavirus cases. 5,138 patients have recovered in the country.  
Coronavirus cases in Germany have been continuing to increase despite lockdown measures to contain the spread of the pandemic. The number of cases has reached to 50,871, with 351 deaths.
While France has reported 32,964 confirmed cases, death toll from the pandemic has risen to 1995 in the country. 5,770 patients have recovered until now.
ILKHA
Önceki ve Sonraki Haberler