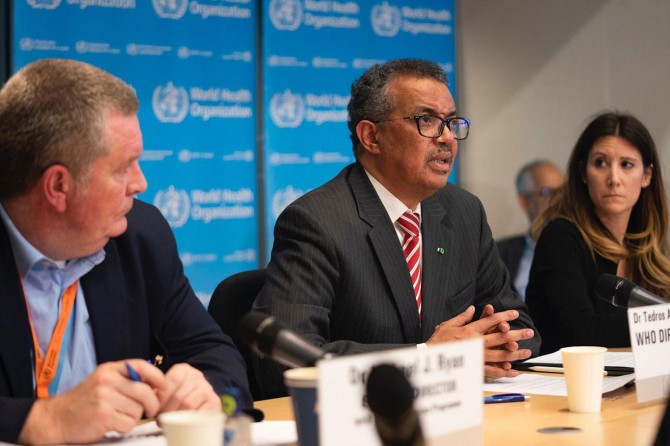 WHO: Countries must isolate, test, treat and trace
In his opening remarks at the media briefing on COVID-19, WHO Director-General Dr. Tedros Adhanom Ghebreyesus noted that more than 80% of all cases are from two regions – the Western Pacific and Europe.
"Don't assume your community won't be affected. Prepare as if it will be.Don't assume you won't be infected. Prepare as if you will be. However, there is hope. There are many things all countries can do," said Dr. Ghebreyesus, adding that physical distancing measures – like cancelling sporting events, concerts and other large gatherings – can help to slow transmission of the virus.
"If they don't, transmission chains can continue at a low level, and then resurge once physical distancing measures are lifted," he underlined.
WHO continues to recommend that isolating, testing and treating every suspected case, and tracing every contact, must be the backbone of the response in every country. This is the best hope of preventing widespread community transmission.
Stating that WHO continues to call on all countries to implement a comprehensive approach, with the aim of slowing down transmission and flattening the curve, he said: "This approach is saving lives and buying time for the development of vaccines and treatments."
He recalled that the first vaccine trial has begun, just 60 days after the genetic sequence of the virus was shared by China and described that as incredible achievement.
He urged the researchers around the world who have come together to systemically evaluate experimental therapeutics.
Multiple small trials with different methodologies may not give us the clear, strong evidence we need about which treatments help to save lives. WHO and its partners are therefore organizing a study in many countries in which some of these untested treatments are compared with each other.
"This large, international study is designed to generate the robust data we need, to show which treatments are the most effective. We have called this study the SOLIDARITY trial. The SOLIDARITY trial provides simplified procedures to enable even hospitals that have been overloaded to participate," he stated.
He said that many countries had already confirmed that they would join the SOLIDARITY trial - Argentina, Bahrain, Canada, France, Iran, Norway, South Africa, Spain, Switzerland and Thailand.
He concluded as follows: "The COVID-19 Solidarity Response Fund has now raised more than US$43 million from more than 173,000 individuals and organizations, a few days since we launched it. I would especially like to thank FIFA for its contribution of US$10 million. These and other efforts give me hope that together, we can and will prevail. This virus is presenting us with an unprecedented threat. But it's also an unprecedented opportunity to come together as one against a common enemy – an enemy against humanity."
ILKHA
Önceki ve Sonraki Haberler