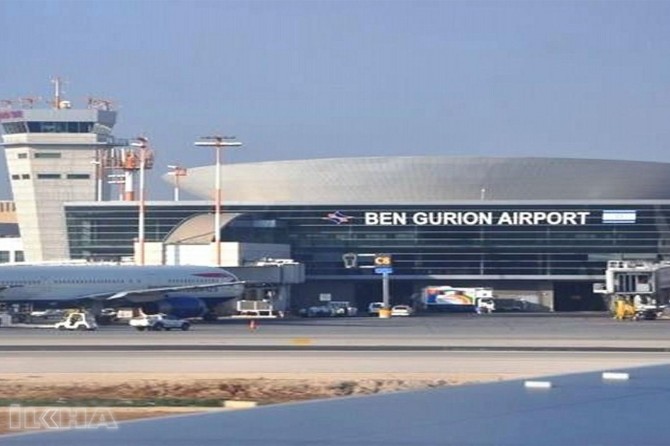 Who will stop the persecution of zionist on Turkiye's citizens?
Many citizens of Turkiye, who visit Jerusalem for the last time, are subject to severe human right violations by the zionists, starts from Ben Gurion Airport in Tel Aviv, the first stop of the occupied territories and continue until the return.
Many citizens of Turkiye, who visit Jerusalem for the last time, can pass to Al-Quds [Jerusalem] after the long query and forced to stay for hours in Ben Gurion Airport in Tel Aviv. Some are deported without letting them in. Some Turkiye citizens who allowed to enter the city are being detained with various excuses and releases after days-long captivity.
Some of the many applications reflected in the public and the media are:
Star newspaper writer Halime Kökçe, ÜLKE TV Editor-in-Chief Hasan Öztürk, Özden Ayvaz from TRT and Hüseyin Günay, Deputy Chairman of the Memur-Sen Levent Uslu, Sadakataşı Association General Chairman Kemal Özdal, activists Dürdane Özdal, Fatih Bolcan and Sümeyra Bolcan were detained in Ben Gurion Airport in Tel Aviv, the first stop of the occupied territories.
Turkiye's citizens, who are detained for no reason, are exposed to ill-treatment of zionists. Many names are being asked to do so by their grandparents in the query. The citizens of Turkiye ban on entry to the occupied territories for 10 years and then they are being deported.
Orhan Buyruk, a citizen of Turkiye, who went to visit Al-Quds on 28 September 2017, has been detained for 21 days on the pretext of being an 'agent'. During prison time, Buyruk was kept in a small 2-meter cell for 20 days. During this time, he was taken to court three times in a show. In the court nothing was asked, nothing was said. He is then released after 21 days.
"I was deported on the grounds that I was an activist in the Mavi Marmara"
Star news reporter Kemal Gümüş, who went to Jerusalem to visit the holy places on November 23, 2017, is being deported from Ben Gurion Airport in Tel Aviv. "I am deported from Tel Aviv on the grounds that I am a Mavi Marmara passenger, which I came to visit Jerusalem," Gümüş announced by his personal Twitter account.
On December 22, 2017, on the ground of events took place in occupied East Jerusalem in the old city, Turkish citizens Abdullah Kızılırmak, Mehmet Gargılı and Adem Koç were taken into custody by the zionists. The Turkish citizens, who were detained without showing any reasons, are exposed to ill-treatment while they were prisoners. After a claptrap trial, the 3 Turkish citizens were banned from entering the old city region where Al-Quds is located and fined to tens of thousand dollars and then released.
On January 15, 2018, Professor of Istanbul Civilization University, Assist. Assoc. Dr. Cemil Tekeli is being detained at Tel Aviv Airport while returning to Istanbul after the completion of the Jerusalem program, which began on January 11th. He is still not released on the pretext of "Your investigation has not been completed." Even the family is not informed about why the Tekeli is being detained, who is still being detained.
Zionists are asking even grandparents names during interrogation citizens of Turkiye
On January 19, 2018, Kayseri businessmen Celal Hasnalçacı, Nedim Olgunharputlu, Fatih Çelik, Ahmet Yurtlu, Necati Ayranci and Şaban Antaç were detained by zionists gangs because they opened Turkiye's flag after performed Friday Prayer in Masjid Al-Aqsa. Psychological pressure is being applied to those 6 businessmen during the time they are detained. They are asked to remove their trousers. They were even asked to say the names of their grandparents during their interrogations.
On January 22, 2017, a group of Turkish citizens, including children were prevented from entering Haram al-Sharif for wearing Turkish flag printed t-shirts and fez. After the reaction of the group, the zionists gangs attacked the group and detained Abdullah Kızılırmak and Mehmet Kargılı. Both Turkiye's citizens are still in captivity.
In case of inquiries personal details, details about job and work, personal phone calls are asking
The samples we took here only a few events, which have become frequent in recent times. So that, the Turkish citizens who plan to visit Al-Quds are subject to a different treatment in Istanbul at the airport. Those who pass the security checks, and impose to zionist special security check for the second time. Those who can reach the occupied territories are taken to the compulsory waiting rooms at Tel Aviv Airport and subjected to more than one interrogation.
In case of inquiries; personal details, details about job and work, personal phone calls are requested. Phones are being reviewed, e-mail addresses and social media accounts are encrypted and images of their phones are being taken.
Turkish citizens are asked if they pray or not, which mosque do they go to pray, they are connected to any civil society organization. Names are requiring if Turkish citizen give any names of association or organization.
They offer some Turkish citizens to be their spy
In the interrogation, especially the names of Palestinian refugees in Turkiye requested. They openly offer to Turkish citizens to be their spy. Those, who do not accept this offer is being threatened with deportation.
During long-term inquiries, threats, rude and degrading treatment, sometimes even physical bruises are being applied.
Those who are arbitrarily deported are forced to sign Hebrew and English texts. Those who do not want to sign under the paper are subject to not be allowed to enter the occupied territories for at least 10 years.
On the other hand, those who come to Turkiye from the occupied territories are not subjected to any difficulties. None of the inhumane treatments of zionists are applied to their citizens while they come to Turkiye. They are not subjected to a question even if it is due to reciprocity or even within the law.
ILKHA