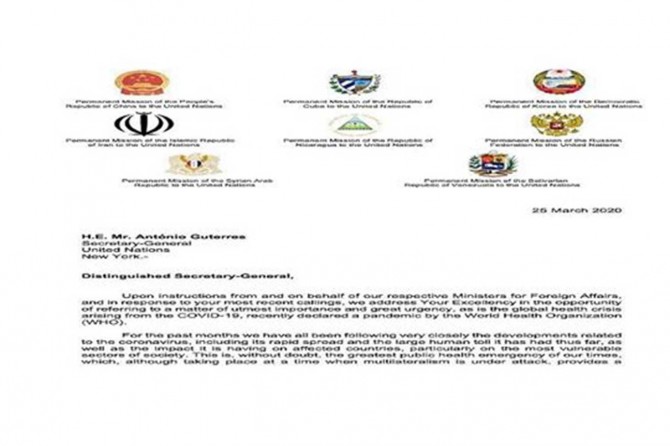 Eight countries write letter to UN to call for lifting sanctions amid COVID-19 pandemic
The diplomatic missions of Iran, Russia, Syria, China, North Korea, Cuba, Venezuela and Nicaragua have sent a letter to UN Secretary-General Antonio Guterres, asking him to call for lifting sanctions that are hampering the fight against COVID-19.
"Unilateral sanctions imposed by some countries are complicating the fight against the coronavirus for the restrictions-hit states," the letter, which was shared by the Russian Mission to the United Nations in Twitter late Wednesday, said.
 "We respectfully urge you to request the complete and immediate lifting of such illegal, coercive and arbitrary measures of economic pressure – in line with the longstanding and principled position of the United Nations to reject unilateral coercive measures – in order to ensure the full, effective and efficient response of all members of the international community to the coronavirus, and to also reject the politicization of such a pandemic," the letter underlined.
On 8 May 2018, U.S. President Donald Trump announced that the United States would withdraw from the Iran nuclear deal.
Following the U.S. withdrawal, the EU enacted an updated blocking statute on 7 August 2018 to nullify US sanctions on countries trading with Iran.
In September 2019, a U.S. official stated that the United States will sanction whoever deals with Iran or purchases its oil. Also in September 2019, in response to a suspected Iranian attack on key Saudi Arabian oil facilities, Trump said that he directed the Treasury Department to "substantially increase" sanctions on Iran. The new sanctions targeted the Iranian national bank.
A Senior Trump Administration official said the new sanctions targeted the financial assets of the Supreme leader's inner circle. However, Tehran has disclaimed playing any part in the attacks that affected the Saudi oil facilities.
On 21 February 2020, Iran was placed on the FATF blacklist.
"The Trump administration's broad sanctions on Iran have drastically constrained the ability of the country to finance humanitarian imports, including medicines, causing serious hardships for ordinary Iranians and threatening their right to health," Human Rights Watch said in a report released on 29 October 2019.
ILKHA
Önceki ve Sonraki Haberler