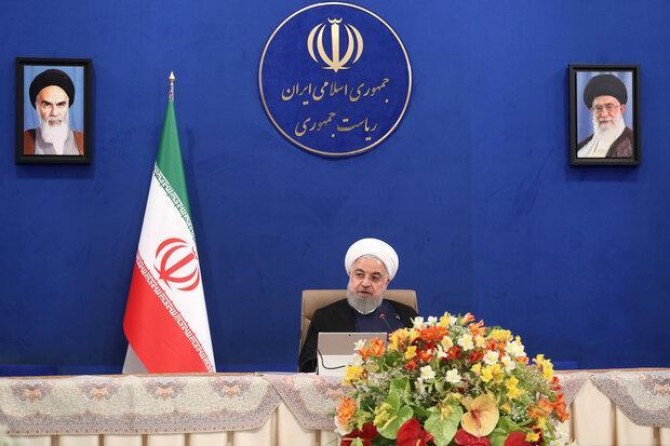 Rouhani: Strict measures should be taken until an acceptable vaccine is available
Speaking on Saturday at a meeting of the National Task Force for Fighting Coronavirus, Iranian President Dr Hassan Rouhani stated that the resolutions of the task force are binding on all.
Emphasizing that the country's strategy against coronavirus has not changed, Rouhani said: "All the regulations passed by the National Task Force for Fighting Coronavirus will remain in force until the Ministry of Health announces to the people that an acceptable vaccine is available and the situation has changed".
Congratulating the people on Eid al-Adha for their cooperation with the National Task Force for Fighting Coronavirus in implementing health protocols to maintain their health, Rouhani said: "The statistics and reports presented at today's meeting were promising for the situation in the provinces".
Rouhani added: "Until today, every province that has entered a period of the illness and has gone through problems has not witnessed a second peak. This is a process that people go through today in observing health principles. If this continues, there will be good news in the coming weeks".
Rouhani continued: "For Muharram and mourning in this month, regulations have been set that will be finalized, approved and announced by next week".
Emphasizing that our strategy on the virus has not changed and is the same as the previous strategy, he said: "Educating and explaining to the people about this virus should continue to be on our agenda as a principle, and people should also observe health protocols".
Emphasizing that the person violating health protocols must be dealt with, Rouhani said: "If a person does not follow health protocols and principles, he must be punished".
He added: "Continuing to test and identify people with the disease is the way to deal with this disease, and we must know who is the carrier, so that after identifying infected people, we can separate them from society".
Rouhani said that the speed of virus spread in some provinces has been high, adding: "The provinces have been given the necessary authority to make the necessary decisions in the provincial task forces to control and curb the virus".
Rouhani emphasized the strengthening of the health sector as one of the important issues and said: "Increasing the number of hospital beds and providing the necessary supplies and equipment, strengthening the medical and nursing staff by hiring new personnel is still our priority".
ILKHA
Önceki ve Sonraki Haberler