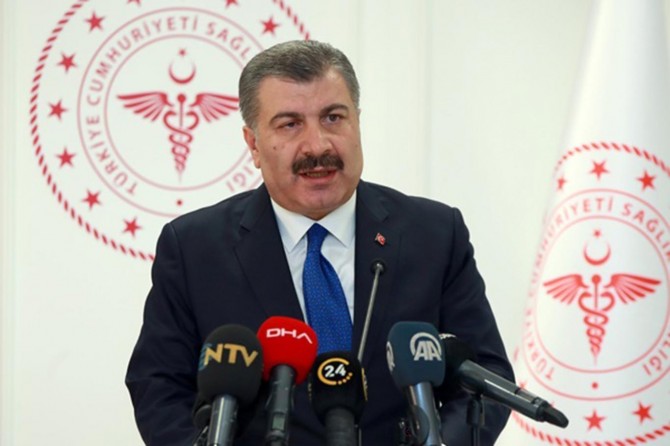 First death from coronavirus confirmed in Turkey
Turkish Health Minister Fahrettin Koca announced that an 89 year-old man had died from coronavirus outbreak in Turkey.
"The number of confirmed coronavirus cases rose to 98 in the country," he said.
"The patient that dead from coronavirus outbreak is found to have contracted the disease from a China-linked employee," he noted.
The coronavirus pandemic was confirmed to have spread to Turkey when its first case was officially confirmed on March 11.
Turkey took some important measures to prevent the spread of coronavirus outbreak, which has claimed the lives of at least 8,000 people,with more than 200,000 infected around the world.
After a meeting between President Recep Tayyip Erdoğan and the rest of the Turkish government on March 12, Press Secretary İbrahim Kalın announced that primary schools, middle schools, and high schools in Turkey will be closed starting from 16 March 2020 for a week. Universities will also be closed for three weeks. Sports matches will be played behind closed doors in the stadiums until the end of April. The president also postponed all his overseas visits.
On 16 March, the Turkish Directorate of Religious Affairs announced a nationwide ban on prayer gatherings in mosques, including Friday prayers, due to the pandemic.
Later that day, the Ministry of the Interior also sent a notice on coronavirus precautions to the 81 provinces of Turkey, temporarily closing all public gathering places such as cafes, gyms, Internet cafés and movie theaters, except shops and restaurants not offering music, starting 24:00 that evening. Fahrettin Koca announced that Egypt, England, Ireland, Switzerland, Saudi Arabia and the United Arab Emirates were added to the list of countries for which the flight ban was imposed.
ILKHA
Önceki ve Sonraki Haberler